Special Spaces Dubuque Recognized as 2016 Crawford Cares Winner
September 11, 2018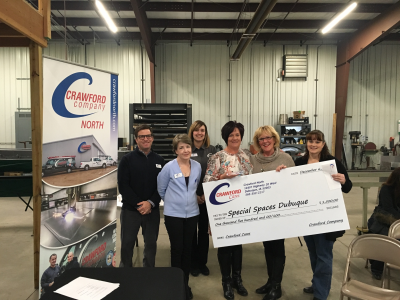 DUBUQUE, IA – For the third year in a row, Crawford North, a division of Crawford Company, has awarded a total of $2,250 to three non-profits dedicated to service and making positive impact in the region.
Thirty Eight area non-profit organizations were nominated through the Crawford Cares Program and over 3,000 votes were cast. Finalists were chosen from entries nominated by Dubuque region residents.
All judging was done by an impartial team not employed by Crawford Companies. The overall winner received a $1,500 donation, presented by the Dubuque Region Manager Jack Koetz. Second place received a donation in the amount of $500.00 and third place received $250.00. The 2016 overall Crawford Cares winner was Special Spaces Dubuque, while Loras College Dance Marathon earned 2nd place and Research for the Kids earned 3rd.
The overall winner was announced and finalists recognized at the Crawford Cares Awards Ceremony held Tuesday at Crawford North (14407 Highway 20 West, Dubuque, IA). To be eligible, the nominees had to be a Dubuque area 501(c)3 organization, have a Board of Directors and be nominated by a local resident. All nominees had to serve local causes for the purpose of having a positive impact on the region. The organizations were also required to demonstrate they were mission-focused and operating on limited resources.
"We can't thank Crawford Company enough for this wonderful donation to create a dream bedroom for a little one having to deal with a life threatening illness. A donation like this means a lot to our organization. We couldn't do rooms without donations like this. We are grateful for your support" - Ann Decker, Special Spaces Dubuque
Summary of the 2016 Crawford Cares Winners:
Special Spaces Dubuque
Their mission is simple but zealous…Special Spaces Dubuque creates dream bedrooms for children with life-threatening medical illnesses. This is a place that only the child can dream or imagine while addressing their medical needs.Their focus is to answer one question; where does a child go when battling a serious illness to heal, find comfort and peace…? Their focus is on those children suffering from cancer, brain tumors, organ transplants and life threatening heart conditions.
Loras College Dance Marathon
Loras College Dance Marathon is a year-long fundraiser that provides support to children from Dubuque and the surrounding areas who have been treated at the University of Iowa Children's Hospital and their families. They support the children and their families emotionally and financially through the Children's Miracle Network Hospitals and help give them a second chance at being kids. Loras College Dance Marathon is the #1 Dance Marathon per capita in the nation for fundraising and is the first to raise over $100,000 for a school of Loras' size. Hundreds of Loras students come together and stay on their feet for 12 consecutive hours, without caffeine, to support the patients who have been treated at the University of Iowa Children's Hospital. On the day of the event they dance, play games, have theme hours, and hear miracle stories from families who have received services from Children's Miracle Network Hospitals.
Research for the Kids
Research For the Kids – a local nonprofit organization driven by the tragedy and hope to remember Sarah Reiss and to honor Matthew Wessels. All proceeds from this annual Poker Run (Ride/Drive) directly benefit Pediatric Brain Tumor and Heart Defects Research programs at the University of Iowa Children's Hospital. To date, Research for the Kids has raised almost $762,000.
There were thirty-five additional non-profits nominated – They include:
A Walk on the Wild Side
Ainsley's Angels of Eastern Iowa
Aquinas Communications
Area Residential Care
ARK Advocates
Asbury Area Civic & Recreation Foundation
Bell Tower Theater
Bethany Home
CAPABLE Volunteer Company
Crescent Community Health Center
Dubuque Area Labor-Management Council
Dubuque Area Youth Baseball and Softball Club
Dubuque Arts Council
Dubuque County Fair Association
Dubuque County Right to Life
Dubuque Food Pantry
Dubuque Visiting Nurse Association
Dubuque Youth Wrestling Club
East Dubuque Fire Department
Eastern Iowa Horse and Pony Camp
Hazel Green Gymnastics Club
Heritage Works
Jo Daviess County Longbeards
Junior Achievement
La Salle Catholic School
Linwood Cemetery Association
Mary's Inn Maternity Home
Michael W. Oglesby Foundation
Miracle League of Dubuque
Opening Doors- Maria House and Teresa Shelter
New View Community Action Agency
Riverview Center
St. Mark Youth Enrichment
St. Stephen's Food Bank
Stonehill Franciscan Services
In 2015, Tri-State Share won the overall Crawford Cares award, while Hills and Dales and the Shalom Spirituality Center were runner-up winners.
In 2014, Hospice of Dubuque was the overall winner, while Shalom Spirituality Center and Dubuque Lutheran Schools were runner-up winners.