Crawford Cares About Our Community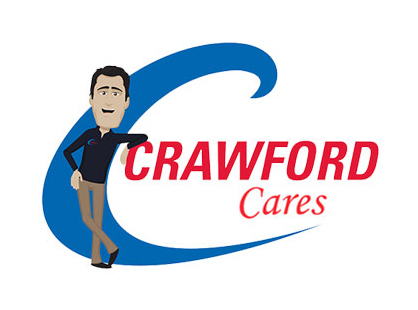 Crawford Cares is a program through Crawford Company that allows us to give back to the community and foster a collaborative environment between for profit and nonprofit companies in the greater Dubuque area. Crawford Cares is committed to making a positive impact in the local community by honoring entities that serve the greater Dubuque population. Recipients will receive personalized awards, recognition and charitable donations.
2019 Crawford Cares Program:
Nomination Period- October 28th - November 3rd
Voting Period- November 4th - November 10th (See list below for top three nonprofits to receive the most votes.)

Finalists (in no particular order): Boy Scouts of America - Northeast Iowa Council, Dubuque Regional Humane Society, Hills & Dales

Judging Period- Week of November 11th (The three nonprofits to receive the most votes will be reviewed by a panel of impartial judges, not employed by Crawford North. The judges will determine 1st place and runners up.)
Awards Ceremony to be held at Crawford North on Wednesday, November 20th at 2:30 PM.
Crawford Cares Criteria:
2018 winners not eligible to participate (New Vienna/Luxemburg Fire Department, Ski Bellevue Water Ski Show Team, Dubuque County Historical Society and National Mississippi River Museum and Aquarium).
Must be a registered 501(c)3 nonprofit organization serving the greater Dubuque area.
Must have a current Board of Directors.
Preference given to organizations within the community serving the elderly, children, individuals with medical and/or mental health challenges, or people seeking help during times of crisis.
Crawford Cares Awards:
1st Place- $1,500
2nd Place- $500
3rd Place- $500
---
2018 Crawford Cares Winners:

2017:
Winner- Live Like Jack
Runners-Up- Scholastic Engineering Research (SERI) and New Vienna Tractor Pullers Association
2016:
Winner- Special Spaces Dubuque
Runners-Up- Loras College Dance Marathon and Research for the Kids
2015:
Winner- Dubuque Tri-State Share
Runners-Up- Hills and Dales Child Development Center and Shalom Spirituality Center
2014:
Winner- Hospice of Dubuque
Runners-Up- Shalom Spirituality Center and Dubuque Lutheran Schools
---
Crawford Company would like to thank our media partners with TownSquare Media.