DUBUQUE REGIONAL HUMANE SOCIETY RECOGNIZED AS 2019 CRAWFORD CARES WINNER
November 20, 2019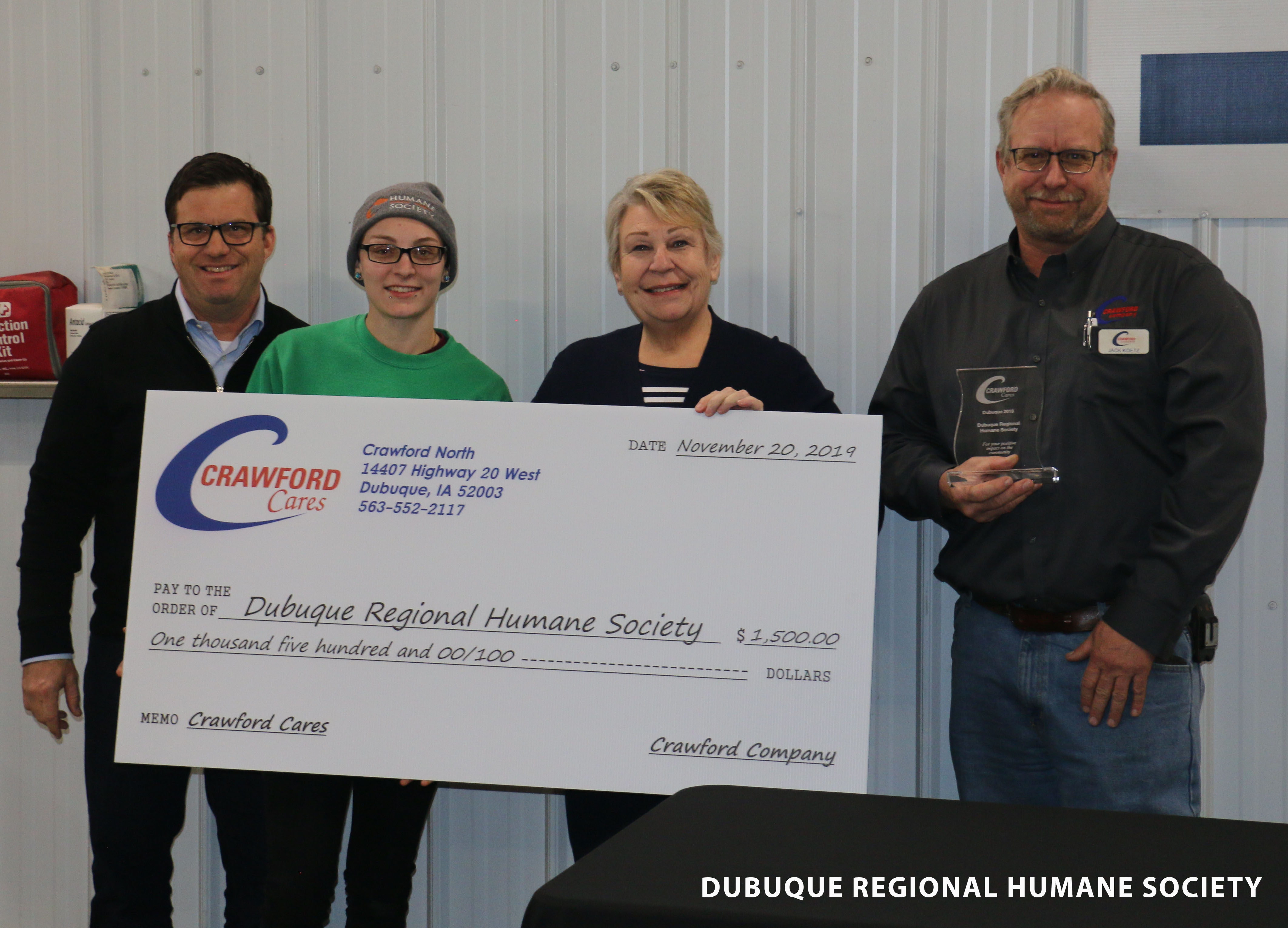 DUBUQUE, IA – For the sixth year in a row, Crawford North, a division of Crawford Company, has honored nonprofits dedicated to service and making a positive impact in the region. Since 2014, Crawford has awarded $8,500 to nonprofits serving Dubuque and surrounding communities.
The 2019 overall Crawford Cares winner is Dubuque Regional Humane Society, while the runners up were Northeast Iowa Council – Boy Scouts of America and Hills & Dales.
Eighteen area nonprofit organizations were nominated through the Crawford Cares Program and over 1,300 votes were cast. Finalists were chosen from entries nominated by Dubuque region residents.
All judging was done by an impartial team not employed by Crawford Company. The overall winner received a $1,500 donation, presented by the Dubuque Area Manager Jack Koetz. The two runners up each received a donation in the amount of $500.
The overall winner was announced and finalists recognized at the Crawford Cares Awards Ceremony held Wednesday at Crawford North at 14407 Highway 20 West, Dubuque, IA. To be eligible, the nominees had to be a Dubuque area 501(c)3 organization, have a Board of Directors and be nominated by a local resident. All nominees had to serve local causes for the purpose of having a positive impact on the region. The organizations were also required to demonstrate they were mission-focused and operating on limited resources.
Summary of the 2019 Crawford Cares Winners:
Dubuque Regional Humane Society
Dubuque Regional Humane Society promotes the well-being of all animals by fostering respect for their inherent dignity and builds life-long bonds between companion animals and people through adoption, education, community outreach, and the prevention of cruelty. Operating as a non-profit, no-kill animal shelter the DRHS cares for over 2,500 pets that are lost, abandoned, surrendered by owners, or rescued from neglect annually. DRHS is committed to finding loving homes for 100% of the healthy and treatable animals in their care. They currently have a 99% save rate and have helped to enrich the lives of many families across the Tri-States with the addition of a companion animal to their homes. In addition to serving animals, they offer programs like Kindhearted Kids Who CARE educational program and Pets for the Elderly.
Northeast Iowa Council – Boy Scouts of America
Since February 8, 1917 the Northeast Iowa Council, Boy Scouts of America has followed its mission of improving youth membership, educational programming, and Council owned facilities. Within the past 100 years, the Boy Scouts of America has grown to serve over 91 million individuals. Within the Northeast Iowa Council, they have grown to serve over 3,929 youth within the four eastern counties of Iowa which include; Allamakee County, Clayton County, Delaware County, Dubuque County and Jo Daviess County, Illinois.
Hills & Dales
Hills & Dales, a not-for-profit human services organization provides services to children and young adults with severe and profound mental and physical disabilities throughout Eastern Iowa. It has always been the primary focus to serve people with significant medical needs. Hills & Dales values a quality of life that enhances dignity, upholds rights and encourages choices by the individual. Their mission is to build meaningful lives for individuals with disabilities by offering services that support the whole person and enhance community inclusion. The organization provides residential, home and community-based supported living, respite, inclusive childcare, therapy programs, autism programs, senior citizen services and intergenerational programs for people of all ages and abilities. Services occur at their Residential Center, in an individual's home, at the Childcare Center, or at the Hills & Dales Community Center.
There were fifteen additional nonprofits nominated – They include:
Area Residential Care
Crescent Community Health Center
Dubuque Arboretum & Botanical Gardens
Dubuque Area Labor-Management Council
Dubuque Community YMCA/YWCA
Dyersville Community Fire Department
Holy Trinity Church
Inspiration Stables
Junior Achievement of the Heartland
Maquoketa Youth Trap Team
Marshall Elementary PTO
Multicultural Family Center
Northeast Iowa Area Agency on Aging
Operation: New View Community Action Agency
St. Mark Youth Enrichment
---
2018 Winners:
Winner – New Vienna/Luxemburg Fire Department
Runners-up- Ski Bellevue Water Ski Show Team and Dubuque County Historical Society
and National Mississippi River Museum and Aquarium
2017 Winners:
Winner – Live Like Jack
Runners-up- Scholastic Engineering Research (SERI) and New Vienna Tractor Pullers
2016 Winners:
Winner- Special Spaces Dubuque
Runners-up- Loras College Dance Marathon and Research for the Kids
2015 Winners:
Winner- Dubuque Tri-State Share
Runners-up- Hills & Dales and Shalom Spirituality Center
2014 Winners:
Winner- Hospice of Dubuque
Runners-up- Shalom Spirituality Center and Dubuque Lutheran Schools