Crawford Company North and Bryant Team Up for Cooldown Giveaway
September 11, 2018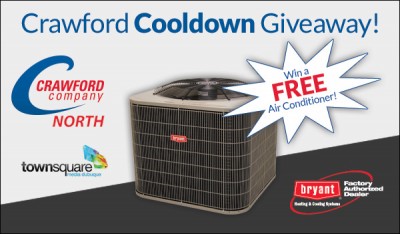 DUBUQUE, IA - Crawford Company North and Bryant Heating and Cooling Systems have teamed up for the Cooldown Giveaway. One lucky winner will be awarded one Bryant Legacy Air Conditioning unit (up to 3 tons), Model 113 ANA 036, professional installation and removal of your existing system. Total prize value up to $3,500.00.
The contest begins Monday, May 16 - Friday, June 17, 2016. Everyone who enters will receive a coupon for 10% off your next service call. The contest is being promoted by TownSquare Media.
Must be legal US residents, a homeowner, at least 18 years old or above, as determined by Crawford Company and reside within 40 miles of Crawford Company's location at 14407 US Highway 20 W, Dubuque, IA.