Crawford Company Announces Top 3 Finalists for Crawford Cares
September 11, 2018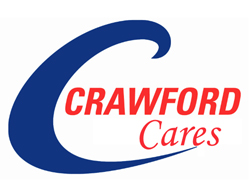 DUBUQUE, IA - Crawford North, a division of Crawford Company, will award $1,500 to three finalists for the 2015 Crawford Cares Program. Congratulations to finalists: Hills and Dales Child Development, Shalom Spirituality Center and Dubuque Tri-State Share. These three nonprofit organizations moved onto a review committee, comprised of Dubuque residents who will decide 1st, 2nd, and 3rd place winners.
The overall winner and finalists will be announced at the Crawford Cares Awards Ceremony to be held at 2:30 pm Wednesday, December 2nd at Crawford North (14407 Highway 20, Dubuque, IA). Crawford will contribute $1,000 to the top overall selection and $250 to the other two finalist organizations.
To be eligible, the nominees had to be Dubuque 501(c)3 organizations and nominated by a local resident. All nominees had to serve local causes for the purpose of having a positive impact on the region. The organizations were also required to demonstrate they were mission focused and operating on limited resources.
"Dubuque and the entire Tri-State area have shown great interest in our Crawford Cares program," said Jack Koetz, Dubuque Area Manager. "We are very proud to be part of this community, and we are happy to give a boost to the nonprofits that do so much for so many in this area. We look forward to many great years of providing the best service available, to the local residents and businesses when they need us."
Crawford Company would like to recognize the following nonprofits for participating in the Crawford Cares Program.
Dubuque Rescue Mission
Two by Two Character Development
Resurrection Elementary
St. Mark Youth Enrichment
Camp Albrecht Acres
Dubuque Regional Humane Society
Mercy Service Club
100 Club of Dubuque
Kids Racing Club
Junior Achievement of the Heartland
Dubuque County Fair Association
La Motte Fire and Rescue Department
Dubuque Youth Hockey Association
Friends of Homacho
Dubuque County Right to Life
The Grand Opera House
ARK
Opening Doors
Project Concern
Mississippi Valley Running Association
Dubuque Wahlert Trap Team
Donna Ginter Free Thanksgiving
Dubuque Area Labor Harvest
Friends of Mines of Spain
Key West Fire/EMS
Dubuque Visiting Nurse Association
Dubuque Area Youth Baseball and Softball Club