Crawford Company Announces Finalists for 2017 Crawford Cares
September 11, 2018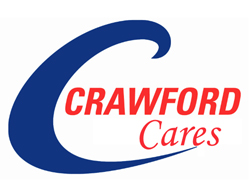 DUBUQUE, IA - Crawford North, a division of Crawford Company, will award $2,250 to three finalists for the 2017 Crawford Cares Program. Congratulations to finalists (in no particular order): Live Like Jack, New Vienna Tractor Pullers Association and Scholastic Engineering Research (SERI). These three nonprofit organizations moved onto a review committee, comprised of Dubuque residents who will decide 1st, 2nd, and 3rd place winners.

The overall winner and finalists will be announced at the Crawford Cares Awards Ceremony to be held at 2:30 pm Wednesday, December 13th at Crawford North (14407 Highway 20, Dubuque, IA). Crawford will contribute $1,500 to the 1st place winner, $500 to 2nd place and $250 to 3rd place.
To be eligible, the nominees had to be Dubuque 501(c)3 organizations and nominated by a local resident. All nominees had to serve local causes for the purpose of having a positive impact on the region. The organizations were also required to demonstrate they were mission focused and operating on limited resources.
Crawford Company would like to recognize the following nonprofits for participating in the Crawford Cares Program:
Area Residential Care
Ark Advocates
Asbury Community Fire Department
Crescent Community Health Center
Dubuque Regional Humane Society
Dubuque Rescue Mission
Edward W. Lake VFW Post 7736
Hillcrest Family Services
Live Like Jack
March of Dimes
New Vienna Tractor Pullers Association
Riverview Center
Scholastic Engineering Research (SERI)
Ski Bellevue Waterski Show Team
The Fountain of Youth
The Workshop